Tradition and modernity do not have to be mutually exclusive – certainly not in a professional context. SCHUHEN Consulting proves that there is another way. Our young family-run consulting company combines stable work structures with flexible job models. The big advantage: Thanks to flexibility, our employees can better reconcile their professional and private lives. Despite their job, the family gets exactly the attention it deserves – and rightly so. After all, what could be more important than children? After all, they are our successors – the ones who will follow in our footsteps one day. So we don't offer ordinary jobs. We offer jobs that fit right into the middle of life.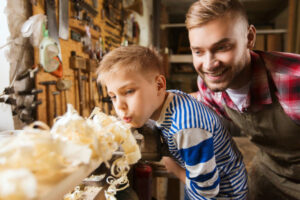 We expect ourselves to recognize and value the family obligations and needs of our employees. We are convinced that taking on family responsibility is an enriching experience. Within the scope of our possibilities, we want to offer custom-fit and individual solutions for the needs of our employees. As an applicant, do not hesitate to openly discuss your family needs and obligations with us.
Have we aroused your interest and can you imagine working with us? Apply with us right away.
We look forward to you!